Partnerships Are our Secret Super Power
We believe our suppliers are important team members in helping us achieve our goals. Together we share the responsibility of providing goods and services that consistently meet or exceed contract requirements and customer expectations. We hope this information will provide you everything you need, and we encourage you to ask if there is anything further we can do to assist you.

Requirements for ALL Suppliers
Additional Requirements for Suppliers
of MILITARY Category Items/Services
Q
Does AMBAC Comply to the "Buy American" Act?
A
Compliance with the "Buy American Act" FAR 52.225-1 is Mandatory
Q
Does AMBAC Require Incorporated FAR's/DFAR's?
A
All FAR's and DFAR's are Incorporated by reference where required.
Q
What is AMBAC's Defense Procurement and Acquisition Policy?
Q
What are AMBAC's Federal Acquisition Regulations?
Q
What is AMBAC'sPolicy Regarding "Conflict Minerals?"
A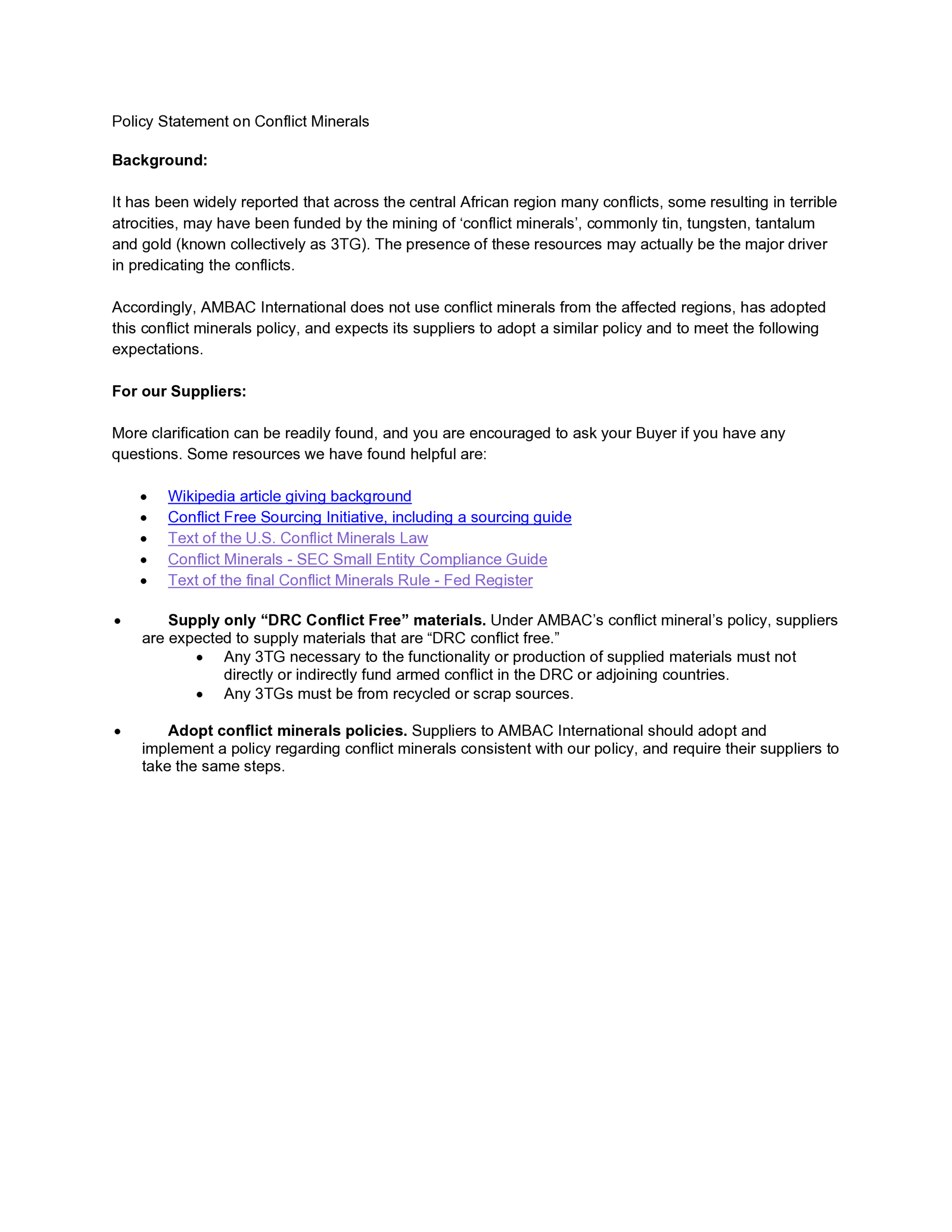 Q
What is AMBAC's Cybersecurity Policy?
A
*THE DFARS CLAUSE REQUIRES THAT ALL CONTRACTORS AT EVERY TIER UNDER A GOVERNMENT PRIME CONTRACT IMPLEMENT ''ADEQUATE SECURITY MEASURES'' (AS DEFINED IN THE DFARS CLAUSE) TO SAFEGUARD CDI, WHICH IS DEFINED TO INCLUDE UNCLASSIFIED CONTROLLED TECHNICAL INFORMATION OR OTHER INFORMATION, AS DESCRIBED IN THE CONTROLLED UNCLASSIFIED INFORMATION (CUI) REGISTRY AT HTTP://WWW.ARCHIVES.GOV/CUI/, THAT REQUIRES SAFEGUARDING OR DISSEMINATION CONTROLS PURSUANT TO AND CONSISTENT WITH LAW, REGULATIONS, AND GOVERNMENT-WIDE POLICIES. THE DFARS CLAUSE ALSO REQUIRES THAT CONTRACTORS AND SUBCONTRACTORS REPORT TO HTTP://DIBNET.DOD.MIL WITHIN 72 HOURS OF DISCOVERY CERTAIN ''CYBER INCIDENTS'' THAT RESULT IN AN ACTUAL OR POTENTIALLY ADVERSE EFFECT ON CDI. TO SUBMIT SUCH REPORTS, YOU MUST ACQUIRE AND MAINTAIN A DOD-APPROVED MEDIUM ASSURANCE CERTIFICATE. INFORMATION ON OBTAINING A DOD-APPROVED MEDIUM ASSURANCE CERTIFICATE IS AVAILABLE AT: HTTP://IASE.DISA.MIL/PKI/ECA/PAGES/INDEX.ASPX.*
Q
What are AMBAC's New Cyber Security Requirements?
A
*THE DFARS CLAUSE REQUIRES THAT ALL CONTRACTORS AT EVERY TIER UNDER A GOVERNMENT PRIME CONTRACT IMPLEMENT ''ADEQUATE SECURITY MEASURES'' (AS DEFINED IN THE DFARS CLAUSE) TO SAFEGUARD CDI, WHICH IS DEFINED TO INCLUDE UNCLASSIFIED CONTROLLED TECHNICAL INFORMATION OR OTHER INFORMATION, AS DESCRIBED IN THE CONTROLLED UNCLASSIFIED INFORMATION (CUI) REGISTRY AT HTTP://WWW.ARCHIVES.GOV/CUI/REGISTRY/CATEGORY-LIST.HTML, THAT REQUIRES SAFEGUARDING OR DISSEMINATION CONTROLS PURSUANT TO AND CONSISTENT WITH LAW, REGULATIONS, AND GOVERNMENT-WIDE POLICIES. THE DFARS CLAUSE ALSO REQUIRES THAT CONTRACTORS AND SUBCONTRACTORS REPORT TO HTTP://DIBNET.DOD.MIL WITHIN 72 HOURS OF DISCOVERY CERTAIN ''CYBER INCIDENTS'' THAT RESULT IN AN ACTUAL OR POTENTIALLY ADVERSE EFFECT ON CDI. TO SUBMIT SUCH REPORTS, YOU MUST ACQUIRE AND MAINTAIN A DOD-APPROVED MEDIUM ASSURANCE CERTIFICATE. INFORMATION ON OBTAINING A DOD-APPROVED MEDIUM ASSURANCE CERTIFICATE IS AVAILABLE AT: HTTP://IASE.DISA.MIL/PKI/ECA/PAGES/INDEX.ASPX.*