WARRANTY
AMBAC INTERNATIONAL STANDARD LIMITED WARRANTY*
You've got work to do, we're here to help.
All AMBAC brand products are covered by our 24 -Month, Unlimited Mileage, Limited Warranty*. Some AMBAC supplied products have product specific warranties, please refer to the product documentation for details.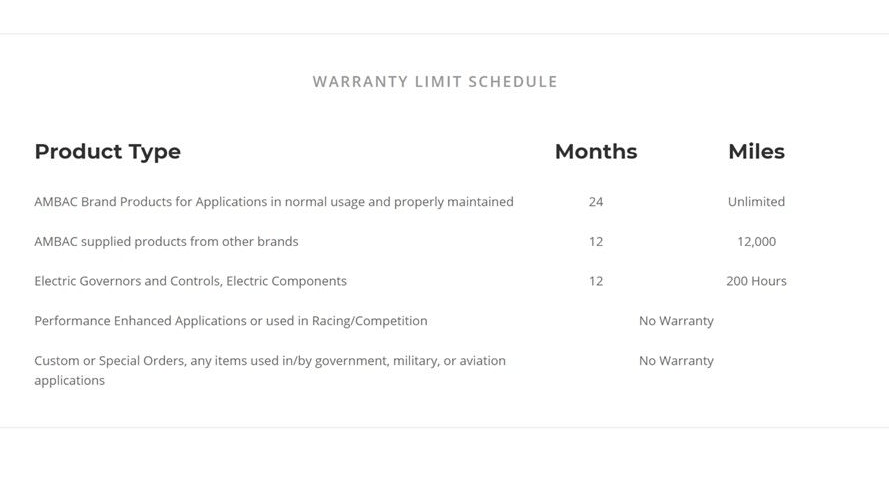 REQUIRED WITH YOUR CLAIM:
Proof of Purchase from AMBAC or an authorized AMBAC distributor.
The product returned for warranty consideration must be in "as removed" condition.
Contact Customer Service to make a Warranty Claim before sending any parts.
This warranty does not apply to any product that is worn or damaged due to: improper installation, neglect, oil or fuel or coolant contamination, foreign object debris, fire, modification, improper maintenance, misuse, accident, or normal wear.
Effective from the date of sale to the original using customer proof of purchase required.
AMBAC assumes no responsibility with respect to any consequential damages.
*AMBAC warrants that at the time of delivery, our product will be free from defects in material and workmanship. Our liability and the customer's sole remedy under this warranty is limited to the repair, replacement, or credit at AMBAC's discretion provided that written notice of the defect shall have been given to AMBAC using the AMBAC WARRANTY PROCESS and within the date limits specified in the applicable Warranty Limit Schedule. Suspect products or parts must be returned prepaid to one of our authorized service agencies or AMBAC directly for evaluation. Those products or parts shown to the reasonable satisfaction of AMBAC to have been defective and caused by AMBAC will be replaced, repaired, or credited at the price purchased from AMBAC.
The foregoing warranties are exclusive and are given and are accepted in lieu of:
Any and all warranties, expressed or implied, including without limitation the implied warranties of merchantability and fitness for a particular purpose; and
Any obligation, liability right, claim, or remedy in contract or tort, whether or not arising from our negligence.
The remedies of the purchaser shall be limited to those provided herein to the exclusion of any and all other remedies, including without limitation incidental or consequential damages. No agreement varying or extending the foregoing warranties, remedies, or this limitation will be binding upon us unless in writing and signed by the president of AMBAC International. This warranty gives you specific legal rights, you may also have other rights which vary from jurisdiction to jurisdiction.